Looks like this event has already ended.
Check out upcoming events by this organiser, or organise your very own event.
Mustafa: A dramatic new theatre production by Kali - 11th, 12th, 13th & 14th April

Multiple Dates

Bradford, United Kingdom
Event Details
A dramatic and compelling new theatre production by Kali...
A man is in prison after the death of a teenage boy during an exorcism. He is little trouble for the prison staff at first but soon after his arrival circumstances change.  When prisoners who taunt him suffer unexplainable injuries and when prison officers start behaving strangely, Mustafa realises the entity he tried to banish from the young victim's body is still with him. 
Isolated in a world where his beliefs are challenged at every step, where even his own brother is not sure he is innocent, racked by guilt at the loss of an innocent life and challenged by an entity that seems bent on destruction, Mustafa knows he must face the evil djinn (spirit) once more, and this time he can't afford to lose...
Is Mustafa the deluded killer of a teenager or a brave innocent man who risked his life to deliver the boy from a dangerous being? This compelling and vivid thriller where nothing is quite what it seems will keep you on the edge of your seat.
Click here for the Mustafa YouTube video:
'A compelling and engaging production, delicately directed by Janet Steel of this poignantly profound and insightful piece...'
What's On Stage
 
'it has a metaphorical dimension with a feared but well-meaning Muslim trapped inside a grim white compound - Islamophobia in a nutshell... As tightly structured as the bars on Colin Falconer's brooding set, both play and production deliver a good few cold shivers.'
Time Out
About Kali Theatre
Kali develops and presents original and thought-provoking new theatre writing by South Asian women. Over the past nineteen years, Kali has established a reputation for high quality productions that entertain, excite and inspire, touring across Britain to venues such as Birmingham Rep, Coventry Belgrade, Plymouth Drum, West Yorkshire Playhouse, Manchester Contact and Soho Theatre.
About Kala Sangam
Kala Sangam is a leading South Asian arts organisation. Kala Sangam aims to increase understanding and appreciation of the cultural traditions of South Asia, whilst improving awareness of racial, cultural and social issues.
Kala Sangam works with local and international artists to create and deliver collaborative work across the community through a programme of creative and accessible events, including performances, classes, workshops, and training courses.
More information at: http://www.kalasangam.org
FOR THIS EVENT BUY ONE FULL PRICE ADULT OR CHILD TICKET AND RECEIVE
  ONE TICKET FREE
Terms and Conditions
The free ticket will be available for collection on the door on the evening of the performance.
Free ticket offer is only  valid on the same night as full price ticket.
Free ticket offer only applies to a ticket of equal or lesser value.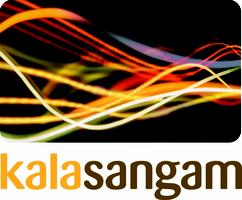 Where


Kala Sangam
St Peter's House
1 Forster Square

BD1 4TY Bradford
United Kingdom
Organiser
Kala Sangam
Kala Sangam is a national South Asian arts organisation, based at St Peter's House in Bradford.
For more information, visit:
www.kalasangam.org